Dodgers: 3 players LAD needs more from in second half of season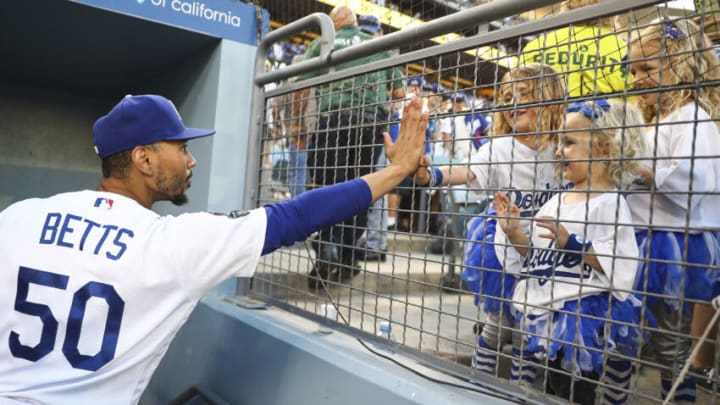 LOS ANGELES, CALIFORNIA - JUNE 26: Mookie Betts #50 of the Los Angeles Dodgers high fives with fans after the game against the Chicago Cubs at Dodger Stadium on June 26, 2021 in Los Angeles, California. The Dodgers defeated the Cubs 3-2. (Photo by Meg Oliphant/Getty Images) /
Mookie Betts #50 of the Los Angeles Dodgers (Photo by Sean M. Haffey/Getty Images) /
The Los Angeles Dodgers are charging relatively hard behind the surprising San Francisco Giants, who might relent a little bit, but are certainly not going away.
If they're going to finish the job, while also holding off the Padres, they'll need a little more juice from a few key areas of the roster.
There's a reason this team was a preseason favorite to not only reach the World Series pinnacle but to set records while doing so — namely, their depth was unparalleled. Even the haul they assembled in the offseason wasn't enough to do much more than tread water in early May, though, with the bullpen entirely shot and the offense reduced to searching for Albert Pujols in the wastelands of Anaheim.
Now, though, things appear to be veering toward the right track. Efforts from players like Matt Beaty and Zach McKinstry have gone a long way, but the cavalry seems set on returning to do damage in the second half of the season.
Cody Bellinger and Corey Seager are, quite obviously, players the Dodgers could use a little more "oomph" from moving forward. That goes without saying, but just to cover our bases, we'll say it here. Their absence hurt, shifting the burden to a few others who likely weren't prepared to shoulder the load (though shoutout to Max Muncy for being beyond ready for the spotlight).
In addition to the emphasis on injury returns rounding into form, these three Dodgers could stand to level up for the pennant chase.
The Dodgers need more from these 3 players to win the World Series.
3. Mookie Betts
Love Mookie Betts. He's an icon for the community. He's modern baseball royalty. He, quite possibly, was the biggest difference-maker during the Dodgers' run to the title in 2020.
If Los Angeles is going to repeat, though, they'll need slightly more from Mookie. They'll need him to evolve again and re-take the "generational superstar" plateau. They'll need him to play so well that Red Sox fans stop posting poorly-photoshopped Instagram graphics reassessing his comparison with Alex Verdugo.
His "down year" has still been worth 2.9 WAR, and his 10 homers, .366 OBP, and 132 OPS+ are, again, fantastic. Betts is a player whose downs you accept because the ups are spectacular, though, and even though the baseline is phenomenal, LA could really use him jumping a level in the season's second half.
In his past 11 games, Betts is hitting .194. Expand that to 23 games, and it's .241. Though he's presumably shaken off the aches and pains of the back injury that hampered him early, he's still not making quite the consistent level of contact we're used to. Understanding exactly how blasphemous this is to report, Betts is in the middle of the road in most statistics meant to illustrate how often he's hitting the ball hard (54th percentile in max exit velo, 57th percentile in average exit velo, 55th percentile in the easy-to-follow hard-hit percentage). Bizarrely, Betts' defense has also not been looked upon kindly by the metrics, falling in just the 22nd percentile in "outs above average."
We'd take the player a hobbled Betts has been 10 times out of 10, but for the stretch run, we'd like to see an ascension take place.