Dodgers: 'Positive' Max Muncy injury update is still pretty scary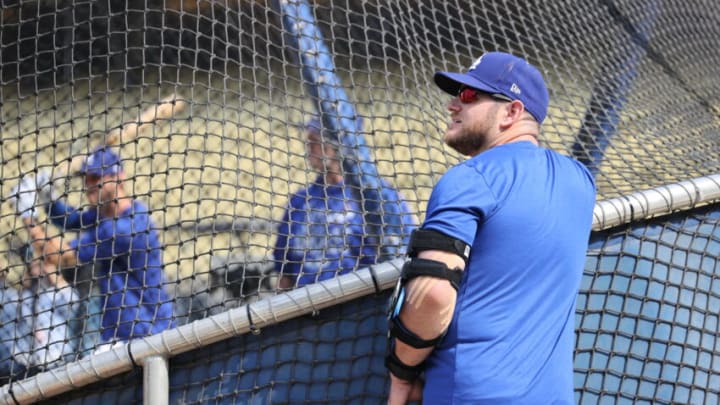 LOS ANGELES, CALIFORNIA - OCTOBER 06: Max Muncy #13 of the Los Angeles Dodgers looks on during batting practice prior to their National League Wild Card Game against the St. Louis Cardinals at Dodger Stadium on October 06, 2021 in Los Angeles, California. (Photo by Harry How/Getty Images) /
Just because the Los Angeles Dodgers theoretically could get Max Muncy back if their playoff run lasts all the way through the World Series doesn't mean he's primed for an effective (or simple) return.
The slugger's latest medical examination only confirmed that, though the road ahead exists, it'll be pretty tough to traverse over the next few weeks.
On the eve of a clash with the 107-win San Francisco Giants (who will be referred to as such until they flame out of October), Muncy visited renowned surgeon Dr. Neal ElAttrache to get a second opinion on whether his elbow was still structurally sound.
According to the good doctor, per FanSided MLB insider Robert Murray, Muncy's parts are still in place, and he'll avoid surgery in this case. However, the repercussions of a dislocated elbow and the resulting damage don't paint a pretty picture about how quickly the slugger can return to rehab … or the diamond.
Dodgers star Max Muncy still has a long injury recovery ahead of him.
Oh, great, no reconstructive elbow surgery. So, he's playing Friday? Not quite.
Muncy injured himself on the final day of the regular season, as the rest of the baseball universe was swallowed up by 14 other games occupying the 12:05 PM PST time slot as the Dodgers and Giants jockeyed for NL West supremacy. As San Francisco quickly proved they had no plans to surrender the game themselves, all attention turned to Muncy's Wild Card well-being, as Brewers speedster Jace Peterson plowed through his outstretched arm on a bang-bang play at first and sent him sprawling to the ground.
Swiftly, he was ruled out for both the one-gamer and any resulting NLDS.
Will we see Muncy by the end of the postseason? Despite learning on Thursday that there's nothing structurally wrong with his wing, per se, now that it's been popped back into place, his return still seems unlikely.
If you've already come to terms with counting out Clayton Kershaw as an active participant this October, we'd recommend you put Muncy's availability in the same mental bucket.
Now, does that mean more Matt Beaty? Only if he heats up. Though he's primarily a lefty masher at this point in time, Albert Pujols will likely deployed against Taylor Rogers and Alex Wood, at the very least. Perhaps he even forces his way into the Game 2 lineup if Game 1 doesn't go according to plan.