Los Angeles Dodgers fans' do's and don'ts for the offseason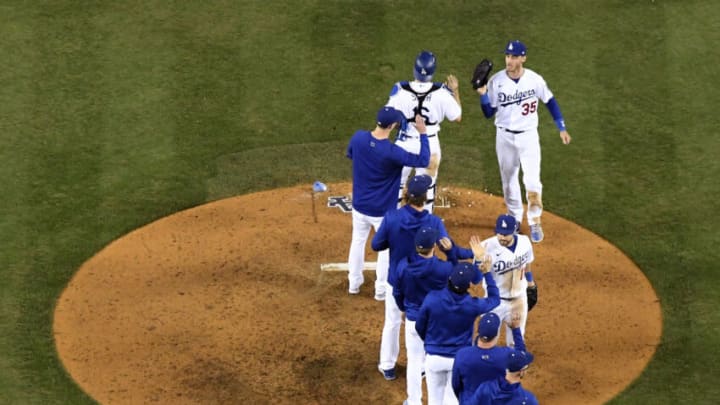 LOS ANGELES, CALIFORNIA - OCTOBER 21: Cody Bellinger #35 and AJ Pollock #11 of the Los Angeles Dodgers celebrate a 11-2 win over the Atlanta Braves during game five of the National League Championship Series at Dodger Stadium on October 21, 2021 in Los Angeles, California. (Photo by Harry How/Getty Images) /
The calendar has turned from October to November and the baseball season is officially over. The World Series has concluded. The Los Angeles Dodgers' year ended in the NLCS. The offseason has arrived.
Dodgers fans have likely been spending the past few weeks wondering what the team is going to do ahead of what's expected to be a tumultuous few months. Sadly, we have no control over who stays or who goes.
Even worse? We'll probably have to wait for a new collective bargaining agreement for the main dominos to fall. How can we stay occupied in the meantime?! How can we properly prognosticate what may or may not happen?
Here are some do's and don'ts for Dodgers fans over the next few months.
Don't:
Expect the Dodgers to make a big free-agent splash. Other than last year when the Dodgers secured Trevor Bauer's signature, they hardly ever go after the top names available. In recent years, they've let Bryce Harper, Manny Machado, Anthony Rendon and Gerrit Cole sign elsewhere even though they were mentioned in rumors.
The Bauer signing blowing up in their face probably validated their previous decisions to stay away, and you can bet that'll play a role in the coming weeks, especially with all of the other priorities the Dodgers have to take care of themselves.
Do:
Expect some changes on the roster. Since Andrew Friedman took over baseball operations, the front office has never stood pat over the winter. There's always a lot of tinkering to be done. With Corey Seager, Clayton Kershaw, Kenley Jansen, Chris Taylor, and Max Scherzer hitting free agency we realistically cannot expect all of those guys to return.
Whether it's the economics of baseball or the passing of time, there's a real chance Dodgers fans will have to say goodbye to at least one or two of these stars.
Chris Taylor #3 of the Los Angeles Dodgers (Photo by Harry How/Getty Images) /
Don't:
Rewatch Game 2 of the 2021 NLCS. This doesn't need any explanation, but if you believe Friedman when he says in-game decisions are made in the dugout, this contest will make you believe he's a liar. I guarantee you the moment Urias comes out of the "arm barn," you're going to break your TV.
Do:
Re-live the 2020 World Series. Waiting to watch the Dodgers end a 32-year title drought was at times tortuous and arduous (see Game 4 of that World Series). Thankfully we can all be relieved that they finally won it, and you can re-live that moment over and over again.
The best place to re-live it is certainly on Youtube, where you fall down a rabbit hole of highlights, celebrations, comebacks, and home runs. If you have a few hours, instead of drowning in the sours of the end of the 2021 season, bask in the glory of the 2020 Fall Classic triumph.
Don't:
Worry! The offseason will fly by and Spring Training will be here faster than you imagine, so save up and get your Dodger blue gear and be ready for the first pitch.
""The one constant through all the years, Ray, has been baseball. America has rolled by like an army of steamrollers. It has been erased like a blackboard, rebuilt, and erased again. But baseball has marked the time"- James Earl Jones, in Field of Dreams"