Braves manager's comments on Freddie Freeman leave door wide open for Dodgers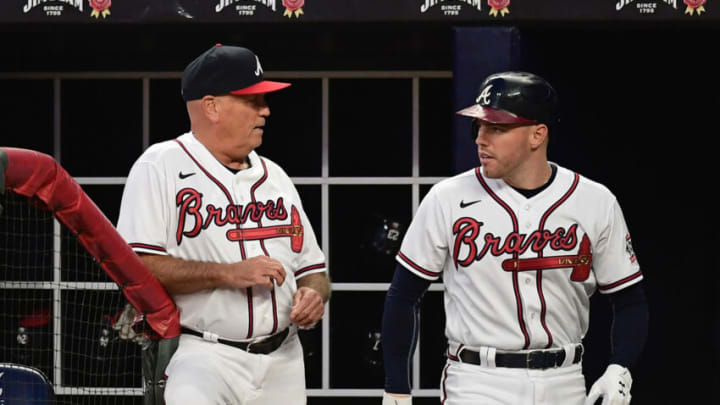 ATLANTA, GA - SEPTEMBER 28: Brian Snitker #43 of the Atlanta Braves talks with Freddie Freeman #5 during the first inning against the Philadelphia Phillies at Truist Park on September 28, 2021 in Atlanta, Georgia. (Photo by Adam Hagy/Getty Images) /
Speculation was one thing. But now commentary from the manager who's been alongside Freddie Freeman with the Atlanta Braves since 2016 (and actually before that when he was the team's third base coach)?
It might be time for Los Angeles Dodgers fans to get excited about the prospect of the team landing arguably the best first baseman in the game, if the front office has any inclination to do so.
Last week, Braves manager Brian Snitker caught up with the general public and participated in a nice little Q&A to give us some content courtesy of the World Series champs during this miserable lockout.
He provided much more than that with his comments on Freeman, too, given his candor and realistic perspective on the subject.
Freddie Freeman's situation with the Braves is great for the Dodgers.
Here's what Snitker told Jeff Schultz of The Athletic (subscription required):
""Right now, I know we can't sign [Freeman]. I might feel (worse) if it was a normal offseason. So we'll see. I hope we have him, but I don't know what's going to happen. I have no idea where guys are going to end up. Those GMs aren't even talking to agents or anybody, but I guarantee you they're up there with their lieutenants, plotting strategy for when the dam breaks. We lost Ronald Acuña and kept going. We lost (Jorge) Soler for an extended period, but you keep playing. Do you like that? No. But you keep going. Do I want Freddie back? Absolutely. Why wouldn't I? But it may not happen. It's the way business is. But I'm not freaking out about it right now. Last year, we lost Player A, and we kept going. We lost player B, C, D, E, F, and we just kept going. It's what we do.""
Snitker also mentioned that he hasn't talked much with general manager Alex Anthopoulos, which is a bit bizarre because that type of contact is permitted. The only parties forbidden from speaking are team employees and the players. Team employees can speak with team employees and players can speak with players. Why would the manager of the defending World Series champs not be speaking with the GM to formulate a plan (or at least get on the same page) for after the lockout, which is expected to be an all-out frenzy?
Another bizarre aspect of all this was Snitker kind of acting as if Freeman was replaceable when he talked about losing a multitude of players last year and still reaching their ultimate goal of a championship. Isn't that more of an anomaly than the norm? We're also not sure how they managed to do all of that without Ronald Acuña Jr., Marcell Ozuna and others, either, but it's highly unlikely something like this will happen again. Plus, there's no denying Freeman's stable veteran presence and influential voice helped play a bigger intangible role than whatever the other aforementioned injured players would've provided if healthy.
Snitker's aware of the reality that Freeman may no longer be a Brave due to a nature of the business, and that further opens the door for the Dodgers, who are rumored to be among the top suitors for the lefty slugger.
As of now, this is the closest we've gotten to the source in regard to the situation between Freeman and the Braves, and it's all continuing to bode well for LA.