Dodgers owning Padres continues with Diego Cartaya hitting HR off Blake Snell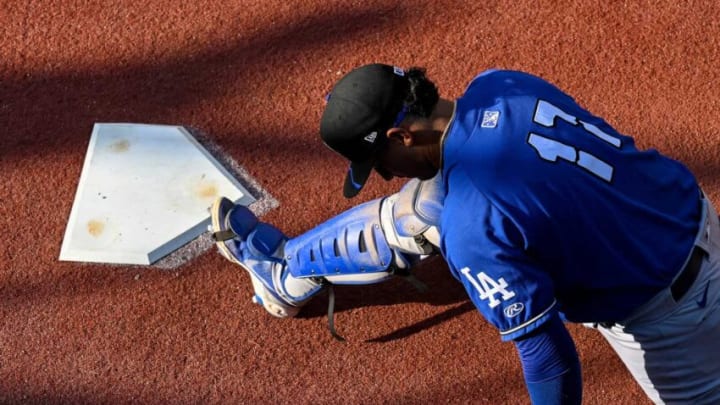 Rancho Cucamonga Diego Cartaya stretches before their game against Visalia Rawhide on Friday, April 8 on Opening Night at Valley Strong Stadium. /
Oh … would you look at that. It's just the Los Angeles Dodgers finding any possible way to assert their dominance over the San Diego Padres. Nothing new here.
However, this particular storyline is more of a reason for Dodgers fans to believe in one of the organization's top prospects. Catcher Diego Cartaya, who rocketed up various rankings across a number of publications this offseason, is now out to prove his worth and live up to the hype.
So far, it's going well for him at Single-A Rancho Cucamonga, where he should log most of his first full professional season after a light 31-game debut at the level in 2021.
Across 16 games, Cartaya is hitting .265 with a .978 OPS, 17 runs scored, 6 homers and 18 RBI. His 24 strikeouts are a bit of a concern, but just about every prospect encounters at least a few flaws in their journey to the bigs.
To further deflect from any negatives, though, we'd like to inform you that one of his home runs came against Padres pitcher Blake Snell, who is currently rehabbing from adductor tightness as he works his way back to the big league roster.
This was no cheapie, either. Safe estimate on this one? Uh, 520 feet? That's just judging from the left fielder's reaction as he watched the ball sail far beyond the wall.
Dodgers top prospect Diego Cartaya took Blake Snell deep with a bomb
And just like that, Snell was yanked prematurely and everything unraveled even further! Kidding! Solid World Series joke, though, right?
The funny part about this particular incident and who it involves is that Snell has utterly dominated the Dodgers in his career, going 1-0 with a 1.75 ERA, 0.90 WHIP and 33 strikeouts in six starts (25.2 innings). That's not including his 10 innings in the 2020 World Series where he allowed just three runs while striking out 18.
No better way to usher in a potential change with a 20-year-old taking a 29-year-old deep, though! Cartaya was just sent a friendly reminder that Snell can't have his way with every member of the Dodgers' organization.
Snell's likely to head to Double-A after the start against Rancho Cucamonga, but Cartaya's parting gift will hopefully provide Dodgers fans with the necessary ammo for when the left-hander eventually returns to the Padres.
The ultimate chess move for Andrew Friedman to consider at the moment? Bring Cartaya up when rosters expand because LA faces San Diego nine times in September. That'll depend on Cartaya's rise, but that would make for some great rivalry TV.