Dodgers must flip this worrisome early trend to win tight NL West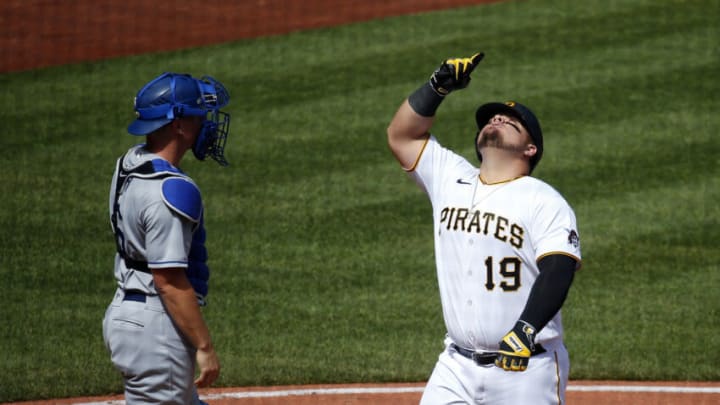 PITTSBURGH, PA - MAY 11: Daniel Vogelbach #19 of the Pittsburgh Pirates reacts after hitting a solo home run in the seventh inning against the Los Angeles Dodgers during the game at PNC Park on May 11, 2022 in Pittsburgh, Pennsylvania. (Photo by Justin K. Aller/Getty Images) /
The World Series isn't won in April and May, but the Dodgers' path to a title can certainly get easier by simply taking care of business.
When the dust settles and the playoff seeds shake out every October, the teams atop the pile with home-field advantage are the ones who beat up on the low men on the totem pole. Just look at the way the AL East champion has treated the Baltimore Orioles during the past 38 years of their intentional tank.
Playing .500 ball against the class of the division while laying waste to the bottom is typically how divisions are won and seeding is mapped out. The NL West is a bit different this season, though.
It won't hold up, but through mid-May, LA's trapped in a division full of over-.500 foes, all the way down to the Diamondbacks at the bottom. Merrill Kelly and Zac Gallen are no slouches, and with the Alek Thomas promotion, Arizona's young offense just got a bit more potent.
In other words, there's no one at the bottom of the West to whip in order to differentiate yourself from the Padres and Giants. That makes the Dodgers' out-of-division games against terrible teams all the more important.
So far, LA's record is garish, thanks to an astounding mark against top competition like the Giants, Padres and Twins. Unfortunately, they can't do much with the Pirates, Rockies and D-Backs, which will have to flip in order for the Dodgers to stay ahead of the pack. Eventually, the top-tier games even out.
Dodgers will lose NL West if they don't start beating bad teams
The good news for the Dodgers? Daniel Vogelbach is now out of their lives for a while (at least, until the end of the month).
The other good news for the Dodgers? The schedule stays relatively weak for the next several weeks, giving LA ample opportunity to get right and extend their division lead. Four at home against Arizona and four against the Phillies will give way to road series in Philly, Washington and Arizona.
There isn't a single daunting challenge on the May schedule for this 20-9 team, but that's what makes these showdowns so crucial.
There's no reason to be pessimistic about the season's outlook. After all, the Dodgers have sprinted out of the gate like a seasoned favorite. But without Max Muncy, Cody Bellinger and Justin Turner in gear, they need to be able to find consistent pitching and hold the fort against MLB's dregs.
There's nothing wrong with the record, on the surface.
But, eventually, the rest of the talented West will exploit the Dodgers' holes, so they must create a foundation over the next three weeks.