Kenley Jansen adds salt to Kimbrel wound by owning Dodgers on Saturday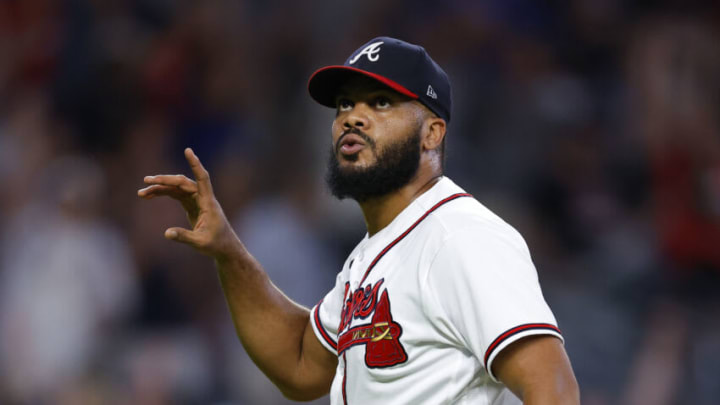 ATLANTA, GA - JUNE 25: Kenley Jansen #74 of the Atlanta Braves reacts at the conclusion of the 5-3 victory over the Los Angeles Dodgers at Truist Park on June 25, 2022 in Atlanta, Georgia. (Photo by Todd Kirkland/Getty Images) /
The Los Angeles Dodgers and Atlanta Braves began their second series of the season on Friday and the most notable story was Freddie Freeman's return to Atlanta. A choked-up Freeman got a thunderous ovation and received his World Series ring in the process.
Freeman is not the only familiar face in this NLCS rematch, as Kenley Jansen is facing off against his old team as well. Jansen already had his homecoming earlier in the season and was able to record a save against his former team. Jansen protected a 3-1 lead in the Braves' only win of the first series.
After former teammate Brusdar Graterol allowed two runs in the bottom of the eighth inning, Jansen got his chance to protect a two-run lead once more against the Dodgers. This time around it was relatively dominant for Jansen. Jansen struck out the side in order on just 14 pitches, sitting down Cody Bellinger, Max Muncy and Trea Turner.
Kenley Jansen poured more salt in the Craig Kimbrel wound by owning the Dodgers
The Dodgers let Kenley Jansen walk this offseason as the team was waiting to free up space under the luxury tax in order to make room to re-sign him. Jansen didn't want to wait, and instead took the offer that was on the table from the Atlanta Braves.
Ironically enough, the Dodgers ended up taking on more salary by trading A.J. Pollock for Craig Kimbrel before the season. This trade is already looking awful, as Kimbrel has not been great, and the Dodgers could really use the outfield depth that Pollock would have provided considering the team is playing guys like Eddy Alvarez and Trayce Thompson.
Jansen is not having an elite season with the Braves, but he is having a much better season than Kimbrel is for the Dodgers. Jansen's season ERA is down to 3.13 after Saturday's save and he has converted 20 of 23 save attempts.
Meanwhile, Kimbrel has a 4.30 ERA this season and has converted 12 of 13 save attempts. While he only has one blown save, Kimbrel has lost three separate games in the ninth.
Kimbrel has only thrown three clean innings with the Dodgers this season, and has not struck out the side a single time, as Jansen did on Saturday. Jansen, on the other hand, has had 15 outings in which he threw a clean inning (and, in one case, 1.2 innings). This is his second time striking out the side, although it is his first time striking out the side in order.
It is not crazy to say that the Los Angeles Dodgers would be significantly better if they simply still had A.J. Pollock and Kenley Jansen on the roster. Saturday night provided yet another painful reminder of that.