Giants' latest trade deadline rumor has Dodgers fans laughing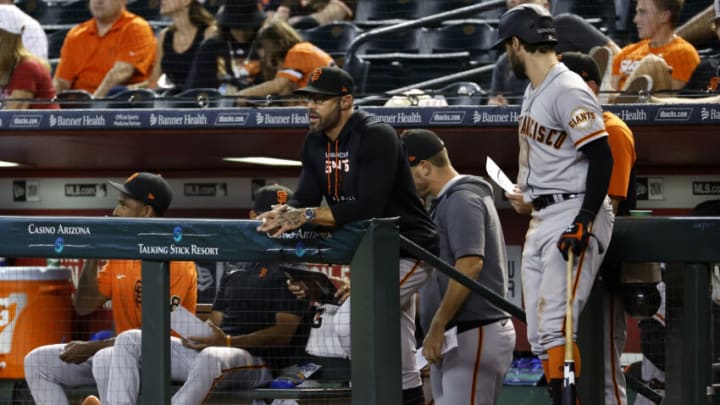 PHOENIX, ARIZONA - JULY 27: Manager Gabe Kapler #19 of the San Francisco Giants (center) looks on during the eighth inning against the Arizona Diamondbacks at Chase Field on July 27, 2022 in Phoenix, Arizona. The Diamondbacks beat the Giants 5-3. (Photo by Chris Coduto/Getty Images) /
Get a load of THIS, you guys!! The San Francisco Giants came out of the All-Star break blazing. Yup. Seven STRAIGHT losses, with the Los Angeles Dodgers being responsible for the first four. The Arizona Diamondbacks took care of the rest with a three-game sweep.
The Giants now sit at 48-50 with five games left before the Aug. 2 trade deadline at 6 p.m. ET — four against the Chicago Cubs and one against the Dodgers, all at Oracle Park.
It's helpful to mention that the Cubs are red-hot since the break, winning five in a row against the Phillies (three-game sweep) and Pirates (two-game sweep). But that hasn't stopped the Giants from believing they can limp past .500 in the coming days and still remain buyers.
According to ESPN's Buster Olney, the Giants "continue to convey to other teams that they aren't sellers," which is, just, I mean, come on … you can't not laugh.
They're going to watch extremely valuable pieces that could expedite a rebuild expire when the buzzer sounds on Tuesday? Really? Has Farhan Zaidi lost it?
The Dodgers buried the Giants, but San Francisco isn't a seller just yet
OK, fine. The Giants are only 3.5 games out of a Wild Card spot in the National League, trailing the Braves, Padres, Cardinals and Phillies, with plenty of games against San Diego (nine) in hand. They also have three against Philadelphia in September.
Additionally, SF has a fairly easy schedule the rest of the way, with two games against the A's, two against the Tigers, three against the Pirates, 10 against the Rockies and 10 against the D-backs. That's 42% of their remaining slate. Doable.
Then again, their first-half schedule wasn't particularly difficult, and they finished just five games over .500. They also have these not-so-great overall ranks:
25th in batting average (.234)
14th in OPS (.712)
18th in stolen bases (45)
24th in fielding percentage (.982)
14th in ERA (3.91)
18th in WHIP (1.29)
24th in opponents' batting average (.252)
How's that all going to change drastically in the coming days? And then the weeks after that?
Yet, it's still somehow "too early" to determine whether they'll sell, despite no discernible identity and more below-average performers than not. So what's the other option? Buy, and waste assets on what's likely a lost season? Or stand pat and watch the veteran assets wither away?
Dodgers fans can safely say they're on board with either of those scenarios because this is not the 107-win team that fooled MLB in 2021.