Young Dodgers fan has adorable reaction to being placed on Padres tee-ball team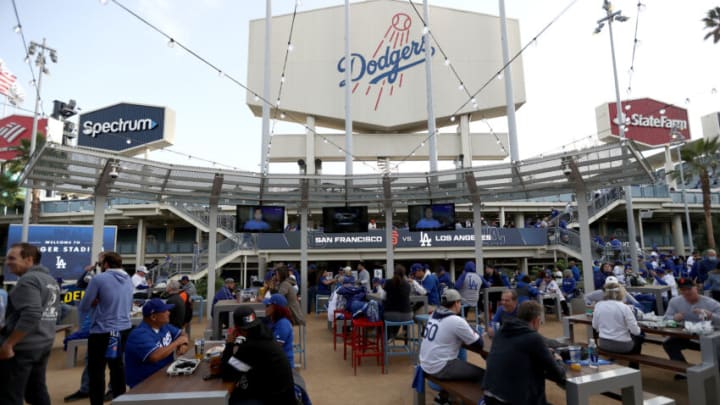 LOS ANGELES, CALIFORNIA - OCTOBER 11: Fans drink beverages before game 3 of the National League Division Series between the Los Angeles Dodgers and the San Francisco Giants at Dodger Stadium on October 11, 2021 in Los Angeles, California. (Photo by Ronald Martinez/Getty Images) /
Imagine getting shipped from the Los Angeles Dodgers to the San Diego Padres, Matt Beaty-style? OK, now imagine the move is completely against your will instead of being a pathway to a "better opportunity," and you're also a toddler.
That's what happened to one young Californian: Elliot Oropeza, the adorable son of Alejandro Oropeza, who's learning the game of baseball by starting at the tee-ball level and working out the kinks.
Only problem? Elliot has been raised to bleed Dodger Blue, and like most fans his age, has grown a distaste for the San Diego Padres that's just as strong as his hatred for the San Francisco Giants, if not moreso.
After all, Dodgers/Giants is the rivalry of McCovey and Mays vs. Koufax and Drysdale. Last season was a crash course (where'd those 107 wins come from?!), but it's hard to deny the Padres have stolen more headlines lately than the Giants. Every summer and every winter, the likes of Juan Soto, Josh Hader, Yu Darvish and Blake Snell seem to join the Padres. And every fall, things turn out disappointing — but don't tell that to the fans!
So, when Elliot was placed on the (shudders) Padres for his first organized season of tee-ball, things went off the rails real quick.
Dodgers fan child upset he's playing for the Padres in tee-ball
Don't worry, kid! They don't test for performance-enhancers at your level. No chance you suddenly lose a Fernando Tatis Jr.-like teammate. Hope that helps!
But wait? Perhaps there's more? A quick visit to Alejandro's Instagram reveals Elliot is now wearing Dodgers gear to practice. Did somebody talk to the commish?! Or has he just gone rogue?
Only time will tell, but the real-life Dodgers are in prime position to make Elliot's dreams come true again this fall, as soon as he hops off the diamond and races to a TV. All that matters is he has fun staying active — oh, and that his heroes, from Trea Turner to third base coach Dino Ebel — bring home another ring for the region this November.