Dodgers take 'risk' with 40-man roster additions before Rule 5 Draft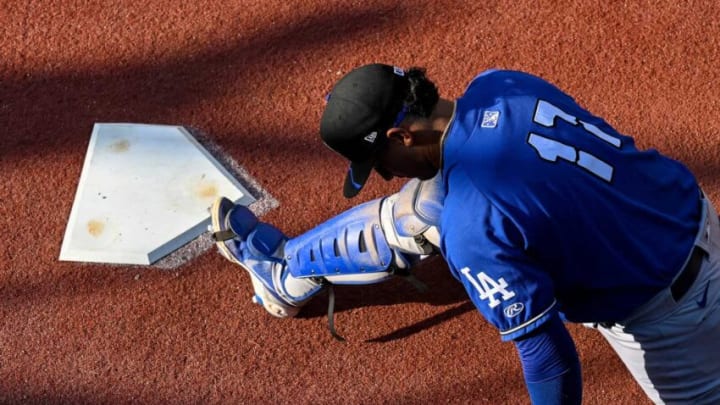 Rancho Cucamonga Diego Cartaya stretches before their game against Visalia Rawhide on Friday, April 8 on Opening Night at Valley Strong Stadium. /
On Tuesday, the Los Angeles Dodgers had Tyler Anderson reject their qualifying offer and then sign a three-year deal with the Angels. Rough stuff. Just hours later, the team put themselves at risk of losing a couple of promising young prospects, too … or did they?
Tuesday's 6 p.m. deadline to protect players from the Rule 5 Draft came and went, with the Dodgers opting to add prospects Diego Cartaya, Michael Busch, Andy Pages and Jonny DeLuca to the 40-man roster. Most fans know those first three very well. Not so much DeLuca, who we'll talk about in a moment.
What's perhaps more notable, however, is who was omitted. Prior the Rule 5 Draft, teams must protect players who were drafted at age 18 or younger within five seasons, as well as those drafted at 19 or older within four seasons. If not, they can be poached by another team in the annual event.
The Dodgers needed to protect a number of important players, but decided to risk it with No. 8 prospect OF Jose Ramos, No. 19 prospect P Carlos Duran, and No. 30 prospect OF Ryan Ward.
Fans can expect at least two of those three to be elsewhere next season, because other teams usually pillage LA in the Rule 5 due to the organization's incredible scouting department.
Dodgers reveal what prospects they'll protect ahead of Rule 5 Draft
Ramos, who reached High-A in 2022, hit 19 homers and 74 RBI in 95 games following his promotion from Low-A. Across both levels, he hit 25 homers and 97 RBI in 123 games. So what's the issue?
First off, the Dodgers have better outfielders ahead of him, such as Pages, Busch (utility option) and James Outman. Secondly, Ramos, who's entering his age-22 season, struck out a staggering 169 times in 545 plate appearances in the lowest levels of the minors. The Dodgers likely view that as a red flag, as well as something they don't want to use an important roster spot on. Who's going to let that player ride the pine on their big-league team all year long?
As for the others, Duran finished with a 4.17 ERA, 1.35 WHIP and 69 strikeouts in 15 games (14 starts), totaling 49.2 innings (mostly at High-A, nothing special) while Ward spent the whole season at Double-A and hit .255 with an .805 OPS, 62 runs scored, 28 home runs and 78 RBI in 116 games. He also struck out 116 times. Solid, but nothing spectacular.
And in comes Jonny DeLuca, who isn't ranked in the team's top 30 (per MLB.com), but, in 98 games across High-A and Double-A, hit .260 with an .888 OPS, 73 runs scored, 25 home runs, 71 RBI and 17 stolen bases while playing all three outfield positions.
Fans have grown accustomed to trusting the Dodgers' near-flawless decision making, and nothing should change with Tuesday's news. If they're willing to let Ramos walk, that means they're either not confident in him or they have better options at their disposal.
Call it a risk, sure. But it probably isn't.