Dodgers: What If Things Don't Break Right This Season?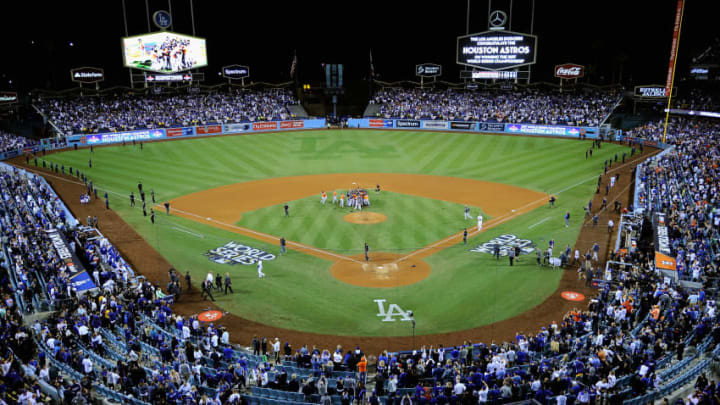 LOS ANGELES, CA - NOVEMBER 01: The Houston Astros celebrate defeating the Los Angeles Dodgers 5-1 in game seven to win the 2017 World Series at Dodger Stadium on November 1, 2017 in Los Angeles, California. (Photo by Kevork Djansezian/Getty Images) /
Dodgers fans everywhere are hopeful for a return to the World Series in 2018, after the huge tease and letdown from losing in Game 7 last fall.
But, getting back to the championship is the absolute best case scenario. Many don't realize that nothing is guaranteed, especially in sports. Numerous different things have to break right throughout the next seven months for the team to even make the playoffs again, but what if they don't?
While 2017 saw the Dodgers win the most games in the majors (104) thanks to important contributions from almost every player on the 25-man roster, there were a handful of breakout or career years that carried the team. Alex Wood surprised many with a dominant first half that helped buoy the starting rotation and led to an All-Star selection. Chris Taylor didn't even make the Opening Day roster, but he cemented himself as a stud leadoff hitter during the summer en route to (so far) career-best 21 homers, 17 steals, and .288 batting average.
Yasiel Puig stopped swinging at so many pitches away in the dirt that Manager Dave Roberts felt inclined to promote his big bat to the middle of the order late in the season. We all know how much stud prospect, late April call-up, Cody Bellinger meant to the team's success. A unanimous NL Rookie of the Year and an MVP candidate, the kid put the franchise on his shoulders. Is there another huge prospect down in Triple-A Oklahoma City ready to take Los Angeles by storm? Possibly. Alex Verdugo doesn't have a spot to play every day, and as of now, neither does fan favorite Andrew Toles. The best bet is Walker Buehler, but he won't be relied upon for consistent starter's innings until maybe the second half of the season.
It is also totally possible none of the rookies break out the way Bellinger did. Or that another veteran will take a step forward towards stardom. Where will the team get a spark from if that happens? Now, let's talk about health, and three big names: Kershaw, Seager, and JT. Clayton Kershaw isn't getting any younger, and his back has acted up each of the last two seasons. Nobody in their right mind would bet two paychecks that Kershaw stays healthy all season long.
Corey Seager has shown no ill effects yet with his bad throwing elbow that should've gotten operated on in the offseason. What if it flares up and bothers him all season long, or puts him out entirely? The Dodgers already got their first bite from the injury bug when Justin Turner got nailed on the wrist last week. Luckily he won't need surgery, but hitters rarely return to old form as soon as a wrist injury heals. This is very likely a lost season for JT with the bat.
The front office didn't make any huge moves this offseason, at least compared to the other title contenders. They obviously feel comfortable with Doc using the pieces at hand to maneuver his way into another division title. But what if he over-manages the team the way he did in the World Series? Paralysis by analysis was ever so evident during the seven-game battle, and it cost his team the title.
More from LA Dodgers News
The Opening Day batting lineup he put out was not inspiring whatsoever. It's not like Kike Hernandez has owned Giants' starter Ty Blach lifetime. He was only 2 for 11 with one extra-base hit prior to being slotted cleanup instead of Bellinger during the disappointing 1-0 loss. I'm sure Doc was rewarding Kike for his torrid spring with hopes of keeping the flame going. But, there's no way Bellinger should be anywhere other than 3rd or 4th in the lineup, period.
While division foes Colorado Rockies and Arizona Diamondbacks didn't make any significant moves to improve their roster, both teams have more than enough talent already to supplant the Dodgers atop the N.L. West should the team scuffle this season. A wildcard berth is no guarantee either. Teams like the Milwaukee Brewers, Philadephia Phillies, Atlanta Braves are all poised to show their respective rebuilding efforts can make them contenders.
The last five seasons (2013-2017), the least amount of wins an NL wild card team has needed was 87 (2016 N.Y. Mets and Giants, 2017 Rockies). If the Dodgers experience bad luck and more bad health this season, neither of which can be predicted, it is not out of the question the team struggles to get to 85 or even 90 wins.
Next: Cingrani key to the success of the Dodger bullpen
The beauty of sports is the unpredictability. I love my Dodgers but so much can happen throughout the course of a long season that can leave everyone questioning the quality and luck of the team. While there is as much a chance that they get back to the playoffs and dominate, sports has shown time and time again that even the best teams don't always come out on top. Let's all cross our fingers and hope everything breaks right for the Dodgers once again and they get to finally bring home a World Series title after a 30-year drought.