Dodgers: Playoff picture remains unclear as regular season winds down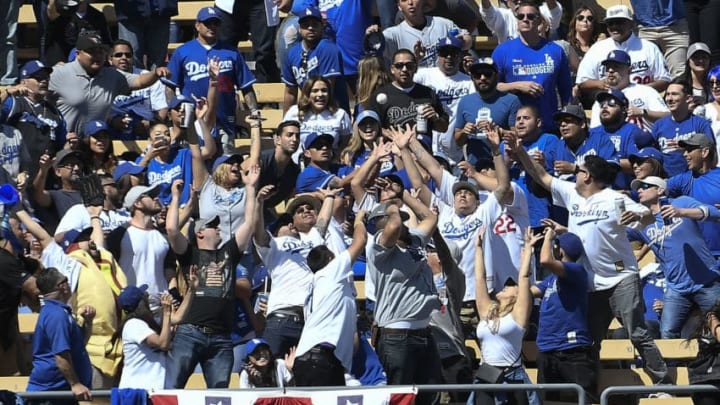 LOS ANGELES, CA - MARCH 28: Fans reach for the two run home run ball hit by Enrique Hernandez #14 of the Los Angeles Dodgers against pitcher Zack Greinke #21 of the Arizona Diamondbacks during the fourth inning against Los Angeles Dodgers at Dodger Stadium on March 28, 2019 in Los Angeles, California. (Photo by Kevork Djansezian/Getty Images) /
PHILADELPHIA, PA – SEPTEMBER 09: Josh Donaldson #20 of the Atlanta Braves high fives Ronald Acuna Jr. #13 after the game against the Philadelphia Phillies at Citizens Bank Park on September 9, 2019 in Philadelphia, Pennsylvania. The Braves defeated the Phillies 7-2. (Photo by Mitchell Leff/Getty Images) /
NLDS Matchup #1: Atlanta vs. St. Louis
PROFILE: The Atlanta Braves
I've already looked at the Braves in depth this season in terms of how they match up with the Dodgers, and they should match up even better against St. Louis on the mound. Plus they have a star-studded offense with Ronald Acuña Jr. and Freddie Freeman as all-around leaders and Josh Donaldson providing a stable and powerful veteran presence.
Let's start with their pitching. They have the arms to beat up on the Cardinals thanks to a lot of righties like Mike Soroka and Julio Teheran, plus a deadly bullpen that pumps out righties like Shane Greene, Chris Martin, and Luke Jackson.
Even as the bullpen has struggled at times post-All-Star break, the rotation has thrived. All five of the starters have ERAs under 3.60, with Mike Foltynewicz and Soroka both checking in just under 3.00.
One growing problem though is the youth of the rotation. Besides being untested like that of the Cards, the Braves' young arms are fading down the stretch, unlike the Cardinals' Flaherty. Over the last 30 days, Soroka and Max Fried both have allowed 6 home runs apiece and have ERAs over 4.00 in that span.
To make up for their shortcomings though, seasoned postseason veterans in Dallas Keuchel and Foltynewicz have stepped up. In the last month, Keuchel has an 0.87 ERA and Foltynewicz has a 1.91 ERA and more strikeouts than innings pitched. Neither have full seasons of innings for 2019, so they should continue to perform into October.
At the plate, Donaldson, Acuña Jr., and Freeman all have over 15 home runs since the All-Star break and the trio is hitting a combined .280 in that span. Impressively, Donaldson and Freeman both have only nine more strikeouts than walks, helping them reach base at clips of .420 and .397 respectively.
Watch out for this team in October, as its potent blend of veterans and young blood is rivaled only by the Dodgers in the National League.