Dodgers: California Governor to allow baseball to return to Dodger Stadium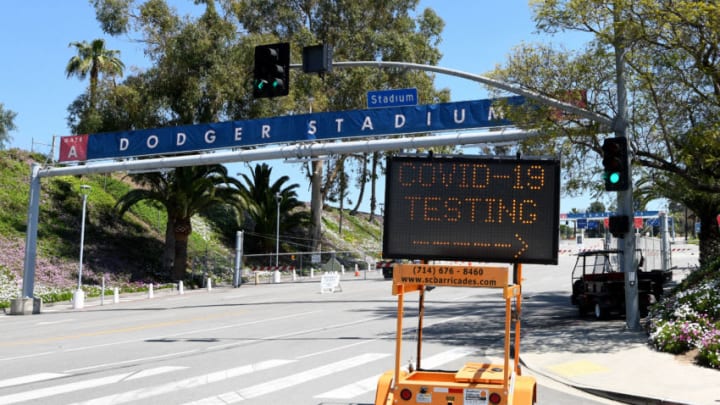 Dodger Stadium. (Photo by Harry How/Getty Images) /
While it's unlikely baseball will be played in front of fans anytime soon, it's possible the Dodgers could return to Dodger Stadium this summer.
---
Governor Gavin Newsom announced on Monday that California can slowly start reopening businesses amid the coronavirus pandemic that has seen a steadying of infection and death rates, but still has no vaccine. The decision to loosen restrictions on roughly 53 of California's 58 counties could pave the way for baseball to return to Dodger Stadium this summer, albeit without fans in attendance.
Major League Baseball and the player's union are negotiating a proposal that would see baseball return to action as early as June, including Spring Training dates. Under consideration in MLB's plan, teams would return to play in home ballparks to reduce travel requirements.
Newsom's decision to loosen coronavirus restrictions would align with the timetable for MLB to return to California, which is home to the Dodgers, Angels, Giants, Athletics, and Padres.
MLB presented an economic forecast to the players that projects the Dodgers would lose $232 million in earnings playing an 82-game season without fans and with players earning pro-rated salaries based on the number of games played. Beyond the important health impacts, the economics of a potential 2020 season still need to be sorted out.
One month ago, Newsom made it clear that it was unlikely large gatherings would be allowed in the state this summer. Obviously, decisions to reopen venues and allow for public events are being evaluated on an ongoing basis. Based on feedback from public health officials and the response of the community to the virus, social distancing restrictions are subject to change.
Playing in empty ballparks creates an opening for baseball to return to California this summer.
The Dodgers are scheduled to host the All-Star Game at Dodger Stadium in July. While there has been no official word of the event being cancelled or postponed, it seems unlikely it will be held as originally planned. The All-Star Game has evolved into a multi-day spectacular for fans to attend from around the world. Without the presence of fans, it doesn't make sense to hold the event.
Fans who purchased tickets to Dodger games in March and April have been given the option to receive refunds or credits for future games.