Dodgers not ready to reopen Camelback Ranch, allowing individual workouts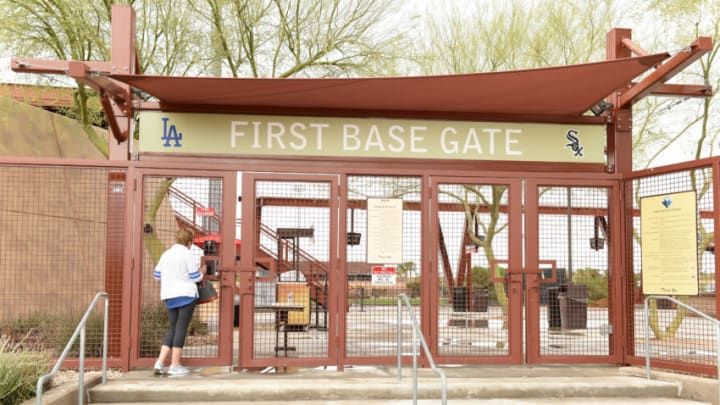 Camelback Ranch, Los Angeles Dodgers (Photo by Norm Hall/Getty Images) /
The Los Angeles Dodgers are remaining cautious in re-opening Camelback Ranch amid loosening coronavirus restrictions.
---
After Governor Ducey announced Arizona's Stay At Home order would be ending on May 15, the door opened for major league clubs to reopen team facilities in the state. However, the Dodgers have no immediate plans to reopen their Spring Training site at Camelback Ranch in Phoenix.
""We just have a lot of restrictions and are kind of erring on the side of caution," Friedman told the OC Register on Tuesday. "A number of our guys have opted against coming, but we do have a number of guys coming, staggering times and allowing guys to come in and throw off the mound or hit in the cage.""
Meanwhile, several Dodger players have remained in the Phoenix area while waiting for future guidance on the upcoming 2020 season. Cody Bellinger and Kiké Hernandez have worked with hitting coach Brant Brown, and Julio Urias has thrown off the mount at CBR, according to the OC Register.
Justin Turner said on a recent podcast with Joe Davis and Orel Hershiser that he asked Dodgers president Andrew Friedman whether he should travel to Arizona to get a head start on working out since the state has looser restrictions than in California where Turner is staying with his wife. But Turner decided to stay home for the time being.
The Dodgers and the rest of major league baseball have been in limbo since camps shuttered in the middle of March due to the coronavirus pandemic. While there is optimism for a season to eventually begin, perhaps in home ballparks, several health and financial details still need to be worked out.
Clayton Kershaw recently said he feels confident a financial deal between the owners and players can be struck if it is deemed safe to play.
Earlier this week, the Governor of California issued guidance for re-opening businesses, and specifically targeted baseball returning to the state as early as June.
""Pro sports, in that first week or so of June, without spectators, and modifications … can begin to move forward." Newsom said according to the Los Angeles Times."
Based on reports from baseball insiders and public comments from players, front office executives and owners, it appears it is a matter of not if but when the 2020 season will begin.
Teams are expected to be given 2-3 weeks of a second Spring Training to allow pitchers to build up arm strength ahead of an abbreviated season. Whether camps will open back in Arizona or near home ballparks is unclear, and perhaps part of the reason the Dodgers are waiting to reopen Camelback Ranch instead of forcing players to travel back to Arizona prematurely.