Dodgers: Players back at stadium, hitting live pitching as season nears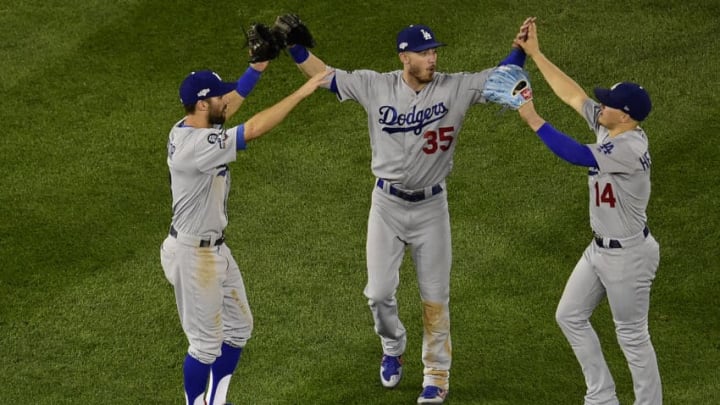 Los Angeles Dodgers (Photo by Patrick McDermott/Getty Images) /
The Los Angeles Dodgers are starting to ramp up their workout activities ahead of a possible start date to the 2020 season.
---
As MLB and the player's union negotiate the details of a return-to-play proposal that would set an 82-game schedule for the 2020 season, Los Angeles Dodgers players are starting to workout together at the stadium, and have even hit some live pitching.
The latest update on the Dodgers expanding their routines to prepare for a possible season was revealed by utility-man Chris Taylor during an Instagram Live interview with teammate Ross Stripling.
""We can finally get into the stadium the last couple of weeks, so that's been good," Taylor said. "It's been Me, Seager, Barnes, JT, DJ, Kenley, Woody, and Scottie. They basically got like two to three guys coming at a time for two-hour segments.""
Chris Taylor's comments provide detail to a report earlier this week about the Dodgers staggering workout times in Arizona. Taylor also said that they are hitting live pitching.
""Today was my first time hitting live," Taylor said. "Kenley [Jansen] threw today.""
The Dodgers are slowly letting players return to Camelback Ranch.
While the Dodgers have been cautious in reopening Camelback Ranch in Arizona, there have been a few players who have stuck around during the shutdown, and some are starting to return in preparation for an abbreviated season.
""We just have a lot of restrictions and are kind of erring on the side of caution," Friedman told the OC Register on Tuesday. "A number of our guys have opted against coming, but we do have a number of guys coming, staggering times and allowing guys to come in and throw off the mound or hit in the cage.""
Among the players who have remained in the Phoenix area, or who have been mentioned to be working out at Camelback Ranch recently are Cody Bellinger, Kiké Hernandez, and Julio Urias, who has been throwing off the mound at CBR, according to the OC Register.
If an agreement can be reached between MLB and the players, Major League active rosters are expected to be expanded to account for an abbreviated second Spring Training and compressed schedule. The National League will also adopt the designated hitter, which could help bench players like Chris Taylor receive more at-bats this season.
Taylor lost time due to a forearm injury last season, but still found over 400 plate appearances playing all over the diamond. He hit .262/.333/.462 with 12 home runs. The 2017 NLCS MVP struggled in the playoffs against Washington, batting 1-8 with four strikeouts.
At this point in time, any story about Dodger players participating in baseball activities is good news to me. While there are a lot of obstacles to overcome in playing a 2020 season, there seems to be plenty of motivation and optimism for Major League Baseball to return at some point this summer.