Dodgers: 10 greatest Tommy Lasorda moments of all time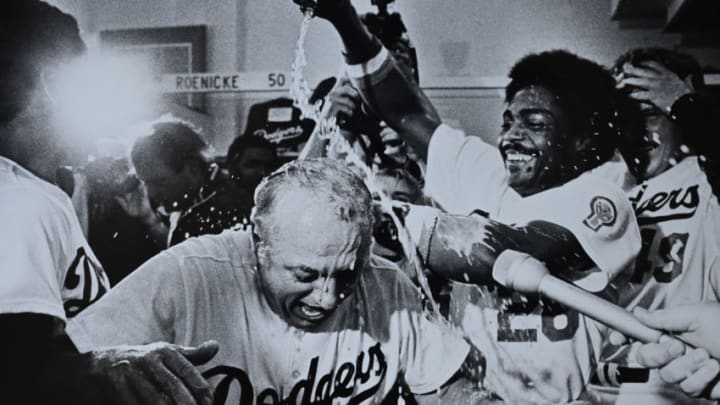 LOS ANGELES, CA - OCTOBER 1981: Pedro Guerrero #28 pours champagne on Manager Tommy Lasorda #2 of the Los Angeles Dodgers after defeating the Houston Astros in the divisional playoffs at Dodger Stadium, Los Angeles, California. (Photo by Jayne Kamin-Oncea/Getty Images) /
Celebrate the life of Dodgers legend Tommy Lasorda with his most passionate moments.
Nobody believed in the Dodgers quite like Tommy Lasorda, and his passion and energy may remain unmatched for as long as baseball is played.
The Hall of Fame manager and Dodger Blue bleeder passed away after a long hospital stay on Friday morning at the age of 93, and the reaction to his death featured a wave of adoration. After all, no one was quite like Lasorda, who packed an awful lot of life into an extended nine-decade package. He even spent one of his final public moments rooting on the Dodgers at their most recent World Series win, removing the burden on the franchise which it had held since Lasorda's '88 bunch upset the Oakland A's (in a sweep) and crowned Tinseltown as "titletown" once more.
In an effort to remember Lasorda the way he deserves to be, we've wrapped up the moments of underdog fire, playfulness, and victorious energy that best define his six decades with the Dodgers organization.
We'll never forget any bit about him, and perhaps these videos will help.
LOS ANGELES, CA – 1988 : Manager Tommy Lasorda #2 of the Los Angeles Dodgers celebrates after winning the 1988 NLDS at Dodger Stadium, Los Angeles, California. (Photo by Jayne Kamin-Oncea/Getty Images) /
10. Lasorda's Victory Speech After Dodgers' 1988 World Series Win
Tommy Lasorda never stopped believing in the Dodgers.
The 1988 World Series run stands as, possibly, the defining on-field moment of Lasorda's Dodgers career, and this powerful, champagne-soaked speech speaks for itself.
Lasorda had spent all October getting dragged, hearing about how the Orel Hershiser-led crew wasn't quite good enough to defeat the '88 incarnation of the 1986 championship Mets core, nor were they anywhere close to good enough to compete with Oakland's Bash Brothers, led by Jose Canseco and Mark McGwire. Especially not without a healthy Kirk Gibson.
Naturally, Tommy proved 'em wrong, beating the juggernaut Mets in seven games before sweeping the A's. If you ever need inspiration, you won't find much greater boisterousness than a post-victory Lasorda realizing that, yeah…he really just did that.