Dodgers: Norm Sherry, Sandy Koufax mentor, passes away at 89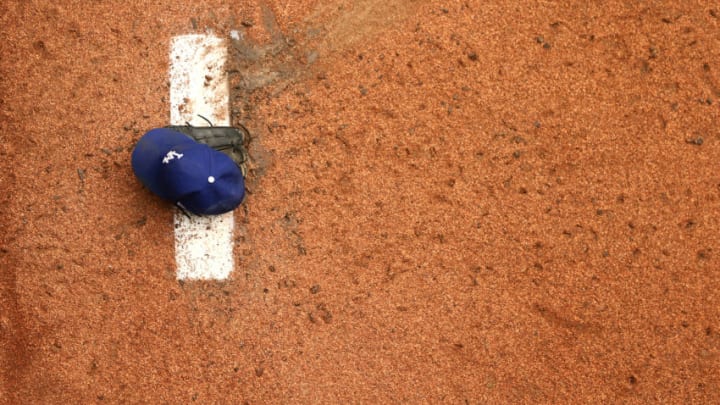 SEATTLE, WASHINGTON - AUGUST 20: A general view of the hat worn by Clayton Kershaw #22 of the Los Angeles Dodgers in the bullpen before their game against the Seattle Mariners at T-Mobile Park on August 20, 2020 in Seattle, Washington. (Photo by Abbie Parr/Getty Images) /
The Los Angeles Dodgers moved out of the shadow of Dem Bums when they left Brooklyn in 1958, and the very next year, found themselves in the World Series once more.
Gone were Roy Campanella and Jackie Robinson, but still remaining was the mystique when the "Gone Hollywood" Dodgers took on the Go Go White Sox to choose a champion of the 1959 season.
When the Dodgers went down 1-0 by the score of 11-0, hope seemed somewhat lost for a team that hadn't one a whole lot of regular-season scoring.
We all know how that turned out.
A frenzied comeback in Game 2 made Johnny Podres a winner, with the save secured by reliever Larry Sherry. When the dust settled on Los Angeles' remarkable six-game victory, Sherry was the shocking series MVP, racking up a pair of wins and a pair of saves in 12.2 exemplary innings of 0.71-ERA baseball.
And no one was prouder than his brother Norm, a catcher who'd had a cup of coffee in '59 and stuck around with the Dodgers for the next several seasons.
Norm Sherry passed away this week, and he should always be remembered as the backstop who coaxed greatness out of Dodgers stars like his brother — and the greatest lefty of all time, Sandy Koufax.
Sherry's brother passed away in 2006, but his reflections on what it meant to be a sidekick to temporary greatness will give you a great window into the man he was.
""My brother as the youngest of the family was always competitive," Norm said. "One time, the kids in the neighborhood wouldn't let him play in their game. When they broke their bat, they asked Larry if they could use his. He said no and they chased him around the park. Finally, he swings the bat against a tree and it breaks. Then he says, 'now you can use it.'"At home, he was the type of kid who would spit on the last piece of cake at the dinner table so he could have it for himself. He was really something, and I was so proud of him when he did all those things pitching for the Dodgers.""
As Mark Langill wrote in the above piece, it seems Norm Sherry was standing by at every turn to coach pitchers like his brother and Koufax to the finish line, almost like a guardian angel for greatness.
When Larry tried to walk away between 1953 and his 1959 promotion, Norm dissuaded him. When Larry languished in the Cuban Winter League in 1958, Norm taught him a slider.
And when Sherry caught Koufax in a 1961 spring training game, he may have found the lefty's consistency for him. Of course, it was waiting to be discovered, right under the bridge of his nose.
Cursed with wildness, it was Sherry who told Koufax to concentrate on letting the batters hit the ball, only to see his swing-and-miss stuff emerge in a flash. When Koufax's concentration was elsewhere, he flourished.
Sherry handed him the key to unlock the final level of his capabilities.
Sherry ultimately caught in the big leagues for portions of five seasons — a two-game cameo in his brother's championship-winning campaign, a .283-hitting season as a backup in 1960, two more years in LA and a finale with the Mets.
As you might suspect from the mentorship portion of this historical retelling, he went on to be a manager, taking the reins of the Angels for two seasons in the mid-70s.
Sandy Koufax was born great. So was Larry Sherry. But without Norm Sherry to provide the final pieces, the Dodgers very well could have a few more accolade-less shelves in their trophy case.