Dodgers: This surprising stat sums up LA's 2021 futility after excellent 2020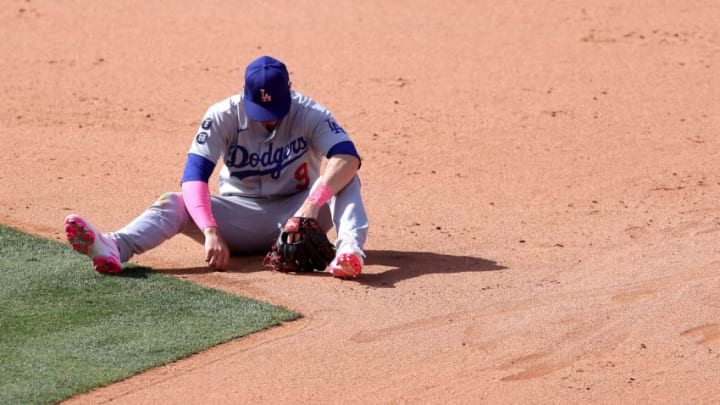 ANAHEIM, CALIFORNIA - MAY 09: Gavin Lux #9 of the Los Angeles Dodgers looks on after he was unable to handle the throw to tag out David Fletcher #22 of the Los Angeles Angels as he stole second base during the eighth inning of a game at Angel Stadium of Anaheim on May 09, 2021 in Anaheim, California. (Photo by Sean M. Haffey/Getty Images) /
Though the 2020 MLB season was shortened far more than any of us wanted it to be, the Los Angeles Dodgers still came out on top during both the regular season and altered playoffs.
A championship is a championship. The Dodgers played to their schedule, laid waste to the NL West, and rebounded from the brink of disaster against the Atlanta Braves in an unfamiliar ballpark in October.
They earned every bit of hardware.
However, 2021 has been a different story entirely thus far — or, rather, two distinct stories working together to form a confusing narrative through 35 games.
Will the Dodgers be "fine"? Most likely, but Los Angeles wasn't aiming for "fine" when they imported Trevor Bauer, bathing in projections that had them setting all-time MLB wins records.
After a 13-2 start, Los Angeles has officially dipped to 18-17, matching their 2020 loss total in under a month and a half. Predictably, they're the first team to do so.
The Dodgers are the first MLB team to match their 2020 loss total.
It remains incredibly likely that, at the end of 2021, a statistic like this serves as a humorous footnote preceding a lengthy playoff run for the Dodgers.
I am glad that we now have something official to mark LA's futility throughout most of 2021, though, because while this may be a fleeting trend, it has certainly lasted long enough that it's become part of the season's narrative arc. It doesn't just have to do with losing players to injury — Mookie Betts, Corey Seager, Justin Turner and Max Muncy are still here. It doesn't just have to do with the bullpen — though the Dodgers have found themselves short-handed far more often than they've anticipated, thrusting strangers like Garrett Cleavinger and Mitch White into the late innings.
When the rotation succeeds, the bullpen bends. When the lineup gets white hot, they go frigid and shatter the very next day. Los Angeles is losing games in myriad ways, and they've already managed to hit their 2020 benchmark.
In other words, the Dodgers have been:
Sorry.
Where do we go from here? Well, those who haven't been forced to watch the Dodgers every day still project them for great success; they've only dipped to No. 2, at worst, in MLB's many power rankings.
The slings and arrows of an MLB season can render a very good team unwatchable, but most fans won't let that cloud their long-term judgment, as difficult as that may be.
Bottom line? Two things can be true. The Dodgers of 2021 have already piled up more disappointments than their 2020 vintage, but there's plenty of time to turn it around.
Perhaps that's how today's stat can best be interpreted. Last year, Los Angeles would've been nearly dead in the water. This year? Eh, they've just been "Anaheim/Seattle/Seattle" for a month, if you catch our drift.