Dodgers: 3 players LAD needs more from in second half of season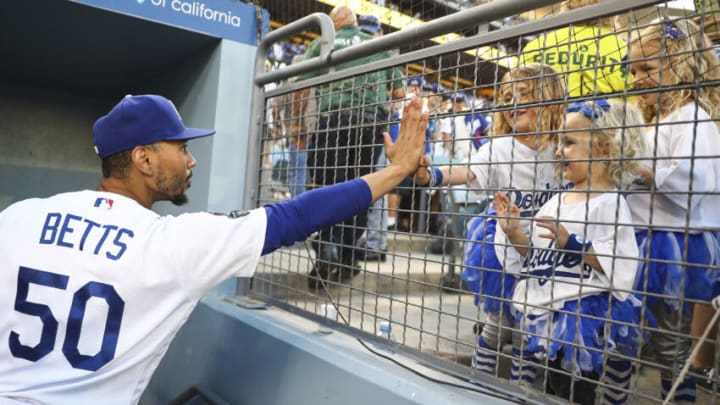 LOS ANGELES, CALIFORNIA - JUNE 26: Mookie Betts #50 of the Los Angeles Dodgers high fives with fans after the game against the Chicago Cubs at Dodger Stadium on June 26, 2021 in Los Angeles, California. The Dodgers defeated the Cubs 3-2. (Photo by Meg Oliphant/Getty Images) /
Tony Gonsolin #26 of the Los Angeles Dodgers (Photo by Meg Oliphant/Getty Images) /
1. Tony Gonsolin
The three-way race for the fifth starter spot this season ended disastrously, though not for the reasons anyone anticipated. We favored David Price, though at the time we had no idea he didn't feel properly built up for the role.
After watching him succumb to injury early, it was painfully clear he wasn't built up for short relief, either.
Between Tony Gonsolin and Dustin May, we probably would've opted for Gonsolin, given how effective May was in short relief during last year's postseason. Unfortunately, we were very obviously wrong there; May displayed remarkable upside before being forced to undergo Tommy John surgery, the plight of most hard-throwers these days, young and old. Baseball sucks.
Gonsolin seemed to hit a wall in last year's postseason, where we all learned fairly quickly that his end-of-year endurance was going to be a big problem. With the lights at their brightest, outings of 2.0, 1.1, and 1.2 innings pitched weren't exactly what any well-adjusted doctor would order. Coming off an exceptional year that ended with a thud, we thought middle relief might be a solid spot for a Rookie of the Year candidate who needed to rebuild value.
Unfortunately, the injury bug bit Gonsolin, too, solving that issue for us. For the remainder of 2021, the Dodgers need to see something that resembles Aug. 2020 Gonsolin every fifth day, now that he's worked his way mostly back from his issues.
In his most recent start, Gonsolin completed a season-high four innings against the Cubs, allowing only a single hit and whiffing seven. He doesn't have to be picture perfect, but five or six solid innings every five days could give Los Angeles the protection they've been sorely lacking. We know he has it in him.