Dodgers' third-rounder earns wild Justin Verlander comp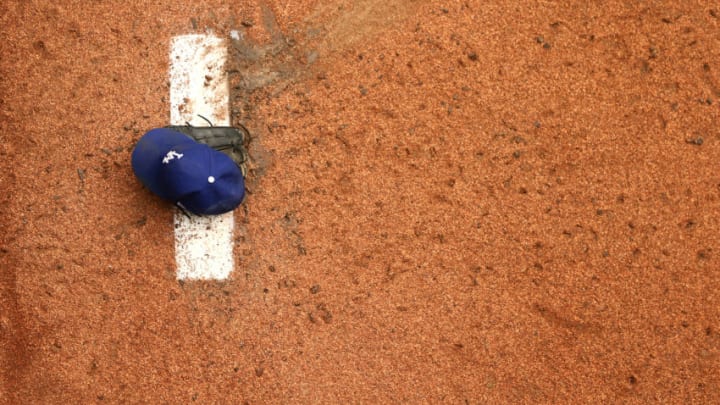 SEATTLE, WASHINGTON - AUGUST 20: A general view of the hat worn by Clayton Kershaw #22 of the Los Angeles Dodgers in the bullpen before their game against the Seattle Mariners at T-Mobile Park on August 20, 2020 in Seattle, Washington. (Photo by Abbie Parr/Getty Images) /
Not every MLB star's path can be replicated, and not every rookie bears a striking resemblance to players from prior eras.
Now that we've got that out of the way, though, we can safely assume without a shadow of a doubt that the Dodgers' third-round pick is poised to look exactly like Justin Verlander in a matter of years.
On Day 2 of the 2021 MLB Draft, the Dodgers went back to the high school well following their first-round selection of Maddux Bruns (not a typo), the Gatorade Alabama High School Player of the Year.
Apparently, the scouting department has a lot of fandom for big-armed high school hurlers — either that, or Gatorade.
In the third round, Los Angeles added Peter Heubeck, a high school righty who won the Maryland Gatorade award, and his pitch profile indicates big things could be coming as he progresses.
Or, as one scout put it, "Buckle up."
Dodgers Day 2 MLB Draft Tracker: Peter Heubeck has Justin Verlander design.
In the mood for some hilarious high school stats? Of course you are. That's the best part of draft day.
This past year, Heubeck went 8-2 with 101 whiffs in 64.1 innings pitched, allowing opponents a batting average of .115. The Verlander comparisons might seem like pure projection, extrapolating off his pitch path and visualizing something more, but according to his high school coach, they're accurate right down to the way he carries himself. As Larry Sheets put it, he's "the guy you'd want on the hill to close out a championship game" — and once you ignore the fact that Verlander somehow doesn't have a single World Series win on his resumé (haha!), the comparison seems apt.
Clearly, the Dodgers hope Heubeck pans out, considering they didn't select a single other pitcher on Day 2 of the draft.
Oh … wait, never mind. Sorry. Got my wires crossed. It was just pitchers.
The future on the bump in Los Angeles might be secure after this spree, though it might help if one or two of these guys could get to Dodger Stadium by Wednesday to be ready for the second half.
If there's any front office we're confident in for a super-charged reload of the future rotation, it's the Dodgers' braintrust, and these power-armed top picks seem like an excellent start.
Stay ready for Day 3, when we assume LA will select the next Gerrit Cole, then add 12 more college pitchers and call it a day.