This Dodgers stat proves they're still most complete team in MLB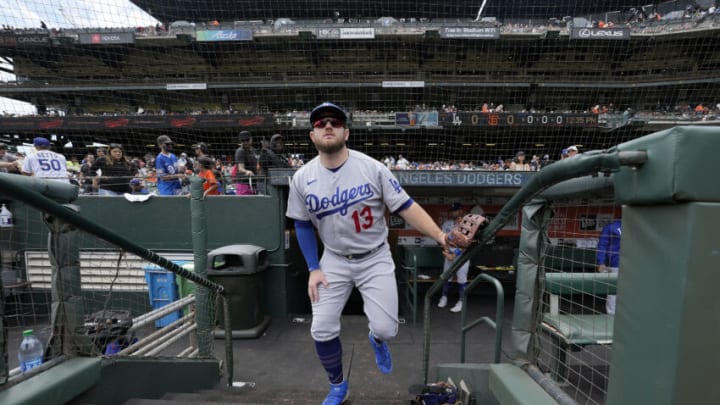 SAN FRANCISCO, CALIFORNIA - JULY 29: Max Muncy #13 of the Los Angeles Dodgers looks on from the dugout steps prior to the start of the game against the San Francisco Giants at Oracle Park on July 29, 2021 in San Francisco, California. (Photo by Thearon W. Henderson/Getty Images) /
Let's get things settled: if the Los Angeles Dodgers do not make the World Series in 2021, it will be a massive disappointment.
Yes, their arrival towards the top of the heap has taken longer than many expected. Yes, there's a strong possibility they end up mired in a winner-take-all playoff game before the postseason really gets started.
Yes, we all understand this beautiful game we love so much has loathsome quirks. A baseball could hit a rock and nail a shortstop in the shoulder, sending the Dodgers home weeks before their projected expiration date.
That doesn't mean anything regarding how this team should be perceived, though. The numbers bear it out. For all of their struggles, the 2021 Los Angeles Dodgers have been the most complete team in baseball. As they were in 2020, 2019, and 2018.
In those three seasons, which featured two World Series appearances and a championship, the Dodgers finished with the most runs scored in the national league, as well as the fewest allowed.
This season, they're also on pace to hit that exact mark.
And, unlike in those previous three seasons, there's no apparently American League juggernaut to meet them at the summit, as long as everything goes according to plan in the National League playoffs.
Run differential stats prove the Dodgers are the most complete team in MLB.
Any time you can match the dynastic 1936-1939 Yankees, you're doing something right — and you're doing it in an entirely different era, with far more parity, and where run-scoring isn't exactly at a premium for any MLB team.
Well, except the Mets.
Most impressively, neither figure is particularly close. The Dodgers have allowed 20 runs fewer than the San Francisco Giants and 23 fewer than the Milwaukee Brewers. Considering Los Angeles has kept their gulf so wide with a bullpen game seemingly three or four times a week, it seems their record's safe for now.
In terms of runs scored, LA's lapping the field, 16 runs ahead of the second-place…Cincinnati Reds?! It's true — 638 to 622. In terms of teams currently in the playoff field, the resurgent Atlanta Braves sit in second place, 38 runs back.
What about in the American League? The Dodgers would also lead the Junior Circuit in runs against, but fall just behind the Tampa Bay Rays and Houston Astros (both 642) in runs scored. There's still time.
The lineup is elite, top to bottom. The pitching has performed spectacularly, even without many of the names you're accustomed to — can Clayton Kershaw and Julio Urias please return? The offense has been nipping at the heels of the Astros, that team you've heard much more about.
If the Dodgers can avoid the slings and arrows of baseball randomness, they have a better chance than anyone else of reaching the promised land in 2021 yet again.