Dodgers News: Dodger Stadium, Camelback Ranch open for rehab purposes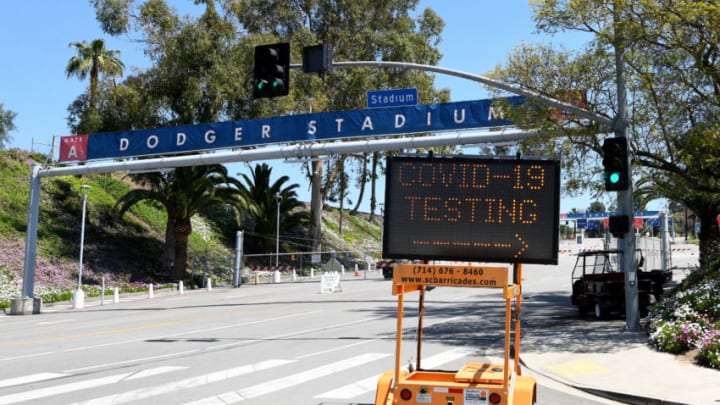 Dodger Stadium. (Photo by Harry How/Getty Images) /
The Los Angeles Dodgers are reopening team facilities for medical and rehab purposes.
---
The Los Angeles Dodgers have officially opened Dodger Stadium and Camelback Ranch-Glendale for players on medical or rehab assignments, according to Ken Gurnick of MLB.com. He notes the team is following strict protocols outlined by the city and state in allowing players to return to team facilities.
This is an interesting news item, of sorts, considering that utility-man Chris Taylor recently indicated that players have been working out at team facilities, without medical need. As the state of California slowly reopens amid the coronavirus pandemic, there appears to be a blurred line between informal and formal workout activities.
Taylor said on Instagram Live on Friday that healthy players are already back at the stadium, working in groups of two-to-three, over two-hour segments. He said they are even starting to face live pitching.
The Dodgers have been cautious in reopening Camelback Ranch.
Dodgers president Andrew Friedman recently said the team has been cautious in reopening Camelback Ranch, despite Arizona's stay-at-home order ending on May 15. However, a few small groups of players have been working out at the facility, according to Friedman.
Memorial Day Weekend presents a test for the city of Los Angeles as more people leave their homes after following strict stay-at-home orders. While there appears to be a steadying of coronavirus cases in the area, public health officials will be watching closely to see the impact of loosening restrictions.
Major League Baseball will also be following the progress of states across the country in planning to return over the next several weeks. While the 2020 season is expected to begin without fans in attendance, there is still risk in asking teams to gather in medium-sized groups to play baseball.
Meanwhile, Dodger Stadium will act as the largest coronavirus testing site in Los Angeles beginning on Tuesday. The historic stadium is set to host the 2020 All-Star Game, but that event will most certainly be cancelled or postponed. Manager Dave Roberts believes Los Angeles should be the host in 2021, pushing Atlanta's host date to the following season.