Dodgers fan builds replica Dodger Stadium in backyard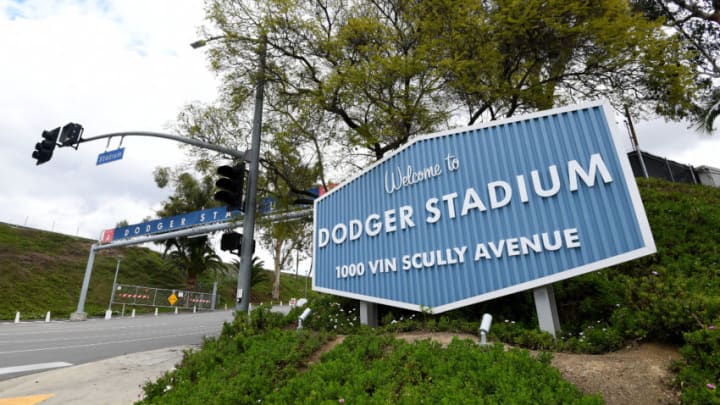 Dodger Stadium (Photo by Harry How/Getty Images) /
A Los Angeles Dodgers fan built a replica version of historic Dodger Stadium in his backyard while stuck at home during the coronavirus pandemic.
---
Some of us have been more productive than others while stuck at home in response to the novel coronavirus. A Los Angeles Dodgers fan in West Springfield, Massachusetts has been spending his time building a replica of Dodger Stadium in his backyard.
The baseball fanatic, Ben Massé, is a teacher and soccer coach who came up with the idea as a joke, but then it quickly turned into a real-life, stay-at-home project. He constructed everything by hand. The blue outfield walls even include the retired numbers of Dodger players, a mini scoreboard, two Dodger Stadium signs, along with foul poles.
""The idea of ​​building a mini Dodger Stadium started as a joke," Massé recently told Con Las Bases Llenas (via Los Angeles Times), "but then I did some drawing and put together a list of materials. So my father-in-law helped me with the construction and my wife helped me with the painting. Everything was done by hand, including the markers on the wall.""
Massé turned his Dodgers field of dreams into the best Wiffle Ball field in America.
Pictures of the replica stadium were shared on MLB's social media accounts over the weekend. I found it particularly cool that center field shows "84 feet" in distance from home plate.
Massé told Con Las Bases Llenas that he hopes to add bleachers and a concession stand to eventually host charity Wiffle Ball tournaments when it is safe to do so amid the coronavirus pandemic.
Meanwhile, the real Dodger Stadium opened on Tuesday as a major testing site for coronavirus in the Los Angeles area. The Dodgers have also reopened the facility for players on rehab assignments. Although, utility-man Chris Taylor recently revealed that several players have been cycling in work at the stadium.
MLB enters a critical week of negotiations in trying to get a 2020 season going, perhaps as soon as mid-June in terms of players reporting for a second Spring Training. It is believed that pitchers need approximately three weeks to ramp back up before a regular season resumes. The hope is that games could be played by early July, allowing for an 82-game schedule before the weather turns too cold and a possible second wave of the coronavirus hits.