Punches thrown in nasty Dodger Stadium concourse fight vs D-Backs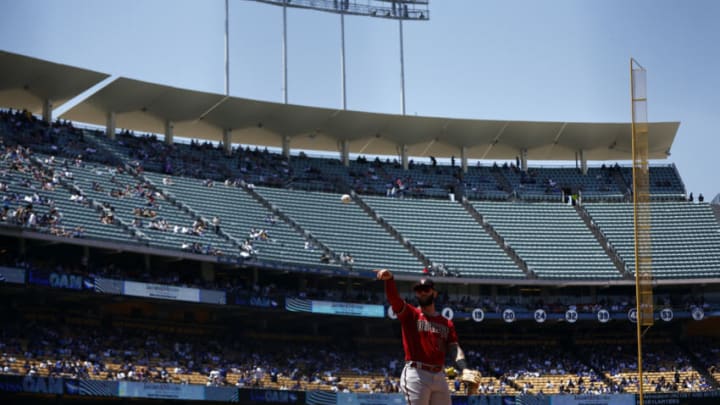 LOS ANGELES, CALIFORNIA - MAY 17: Christian Walker #53 of the Arizona Diamondbacks in the sixth inning during game one of a doubleheader at Dodger Stadium on May 17, 2022 in Los Angeles, California. (Photo by Ronald Martinez/Getty Images) /
Typically, the bleachers are where you'll find The Business at Dodger Stadium. But this week against the Diamondbacks, some Dodgers fans escalated jawing to violence in the back of the seating area between sections 317 and 319.
Fights? At Dodger Stadium? Man, oh man. Guess there's a first time for everything!
Escalating fan violence appears to be an unfortunate pandemic trend. The line between spectator and athlete has certainly been blurred, with everyone from Chris Paul to Kyrie Irving finding themselves and their families in the thick of escalating melees. The next logical step would be said violence percolating into the stands after well over two years of non-normalcy.
Echoing what we famously saw in the Angel Stadium stands last year during a Freeway Series matchup, it appears we got a bit of Dodger-on-Dodger violence this week, with multiple groups colliding in a slap fight directly in front of security.
Dodgers fans brawl in concourse with security looking on at Dodger Stadium
And things were actually going well on the field, too.
While this battle didn't reach its conclusion in the 19 seconds of viewing fans had to absorb it, Dodgers fans certainly are not alone in having things boil over lately. We cannot stress that enough. Everyone is fighting everywhere about everything.
This fan base has garnered a reputation over the past decade or so, though, so it's no surprise that a battle in the concourse is going to get amplified … especially when someone topples over a seat in said melee.
Ironically, this fan fight came almost 22 years to the day when the Dodgers spilled into the stands at Wrigley Field to confront Cubs supporters, which … you know, maybe the pandemic didn't have much to do with escalating these tensions after all.
Though we've been simmering for years, fan violence was somewhat put on the backburner following the Malice at the Palace in 2004.
As long as these clips keep getting circulated, though … who knows? At least it's awfully tough to lob a water bottle to the field from the back of 319.